Lego Architecture San Francisco
This is a Lego Architecture model of San Francisco. It is based on Lego set #21043. I built the model using LeoCAD, and then exported it into Blender 3.3. I did a bit of geometry cleanup so I could subdivide and bevel the edges of some pieces. I made the Lego material myself (you can download it here). Most of the textures are from AmbientCG. The book covers in the background are from Gus Ruballo and Jonathan Sanchez on Unsplash, and the National Library of New Zealand. The painting is of Kirkstall Abbey by Thomas Girtin. The scene is lit by an HDRI from Poly Haven. Rendered at 4k with 4096 samples. I normally use the undenoised (non-denoised? adenoised? noiseful?) renders as the main ones, but because this is an interior scene, I used the denoised versions. See below for undenoised and clay renders, as well as scene views and the compositing setup. Click on the images for the full resolution versions.
-----
-----
Things to Improve:
I had trouble getting lighting that I was happy with, but that was also technically accurate. To get light streaming in from the windows at the correct angle, I had to warp the HDRI a bit.
Another thing that could be improved was the colors. They didn't seem right when compared to the actual colors of the set.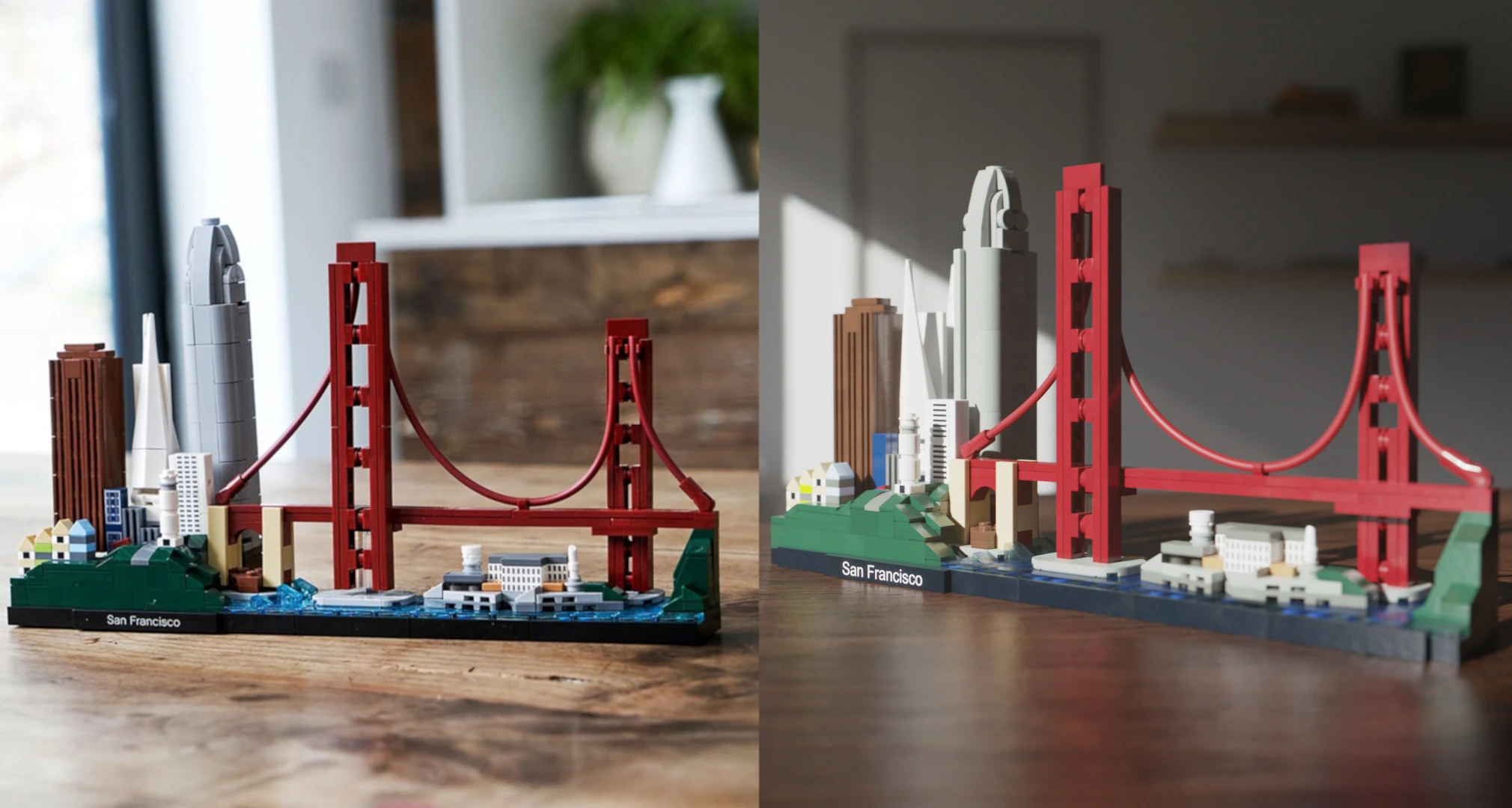 Difference between colors in an official Lego image (left) and my render (right)
The reflections on the pieces weren't as good as I'd like them to be. That could be fixed with lighting.
Also, why did I put in an umbrella stand on a sunny day?
-----
Image Details:
Title: Lego Architecture San Francisco
Subject: Lego model
Lego Material Version: 8.0
Type: 3D Render
Date: 2022-10-14
Made Using: Blender, LeoCAD
-----
You can also find this image at: