Lego Snowspeeder 1
This is a Lego Star Wars Snowspeeder, which only appeared in Episode V: The Empire Strikes Back. It is based on Lego set #4500. I built the model using LeoCAD, and then exported it from there into Blender 3.2. I did some geometry cleanup so I could subdivide and bevel the edges of some pieces. I added the Lego logo onto the bricks manually using a model from Mecabricks. I made the Lego material myself (you can download it here). Textures are from AmbientCG, and the table texture specifically is Planks 015. The scene is lit by an HDRI from Poly Haven. Rendered at 4k with 4096 samples. I had slightly different compositing setups for front and rear renders. See below for denoised and clay renders, as well as scene views and the compositing setup. My favorite render is actually the "Render 2 with Different Lighting" shown below. Click on the images for the higher quality versions.
-----
-----
Things to Improve:
In addition to some of the issues mentioned in my X-Wing render, there are a couple things I think could be better about this scene, one of them being board placement. I found it difficult to find a placement of table boards I was happy with that had good looking reflections and nail placement from all camera angles.
The other main issue I had was with lighting. With this particular HDRI, certain camera angles, mainly ones that had front-on lighting from the windows, didn't look very good. This could be fixed by changing the world rotation, but then it would just look bad from another angle. I never got something I was truly happy with from all angles.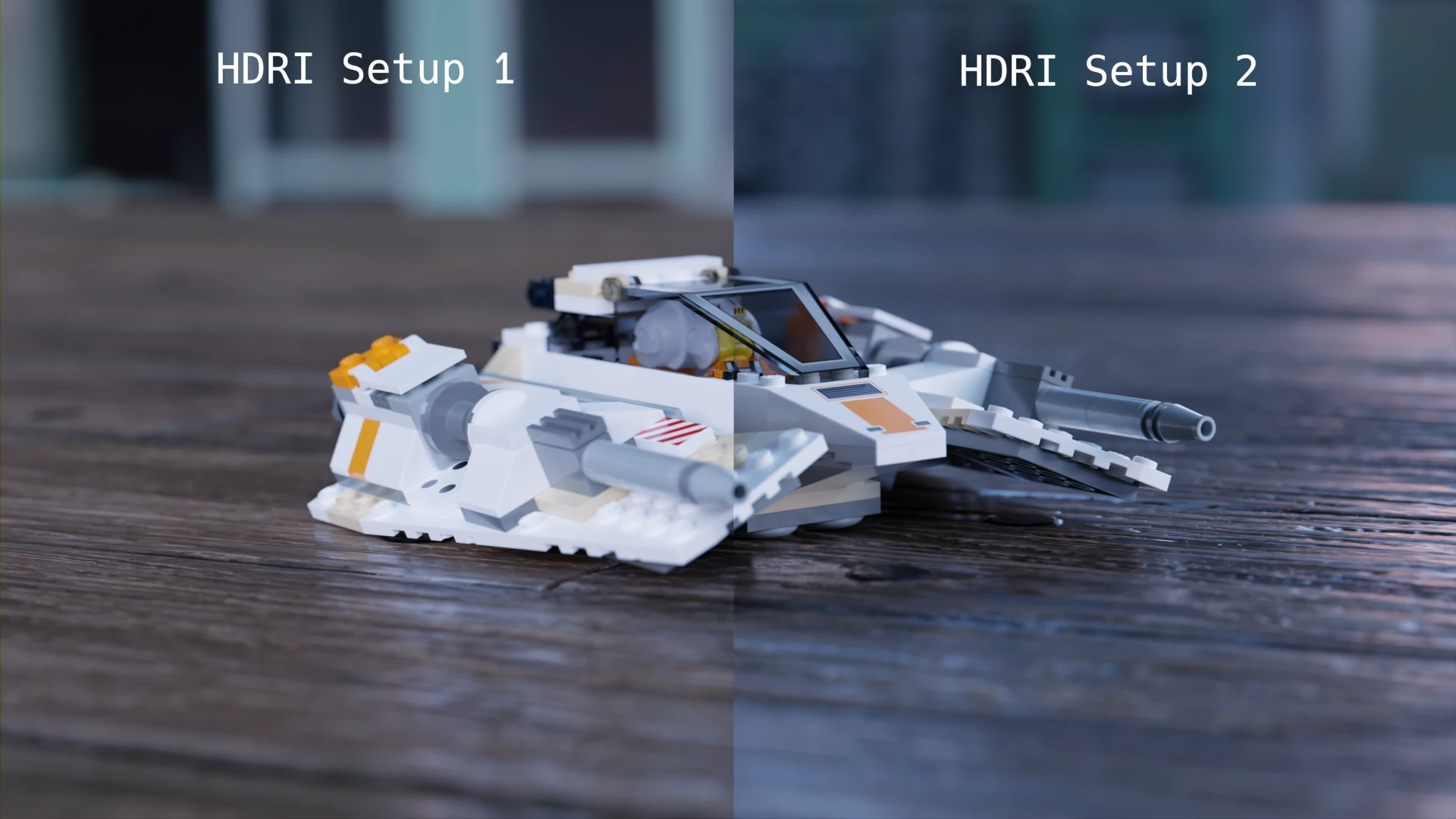 Differences between two different lighting setups
In the above image, you can see the right side has a lot more depth than the left side. The only thing that's changed between the two images is the rotation of the HDRI.
-----
Image Details:
Title: Lego Snowspeeder 1
Type: 3D Render
Date: 2022-08-10
Made Using: Blender, LeoCAD
-----
You can also find this image at: